Robert's Photography
& Video Services

Presents
Shell Creek Kayak Adventure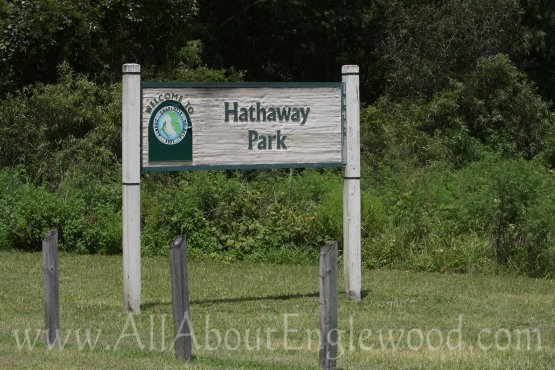 Hathaway Park provides easy access to Shell Creek in Punta Gorda Florida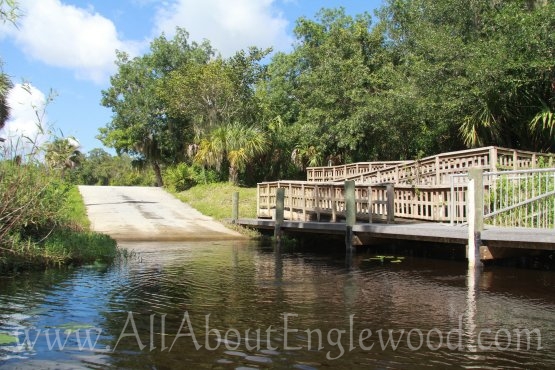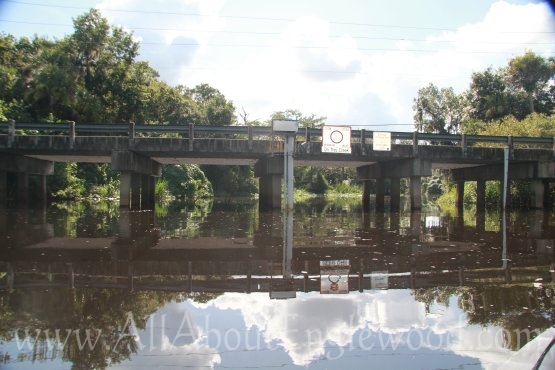 A very short paddle upstream and you go under Washington Loop Road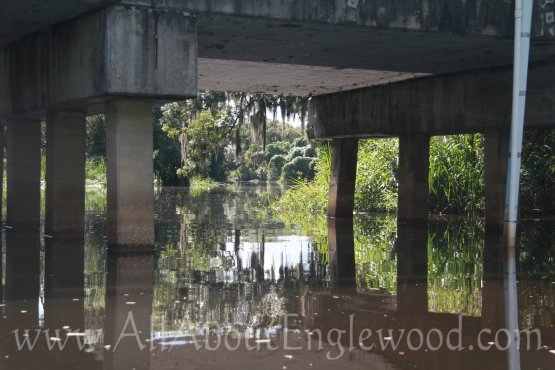 On the other side of the bridge... it turns into a beautiful, green wonderland of nature
\
Around the first meander, we leave mankind and enter a world of savage green.
It's 10 am but the sun has cleared the tall trees to light the western bank of the creek.
I take a moment to add a polarizing filter to my lens. Notice the difference between
these two pictures and how the polarizer reduces the suns white glare that reflects from
the leaves above above.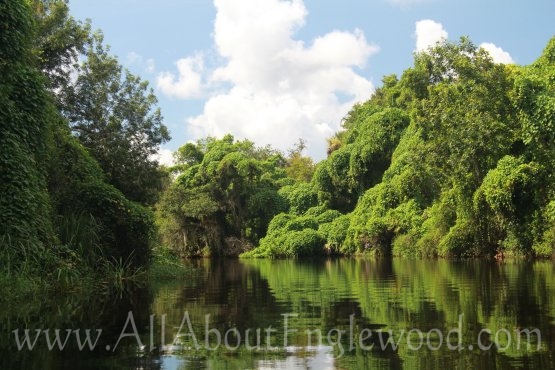 Turn it up... and get as much contrast as you can handle.
Blue sky - White clouds - Green foliage.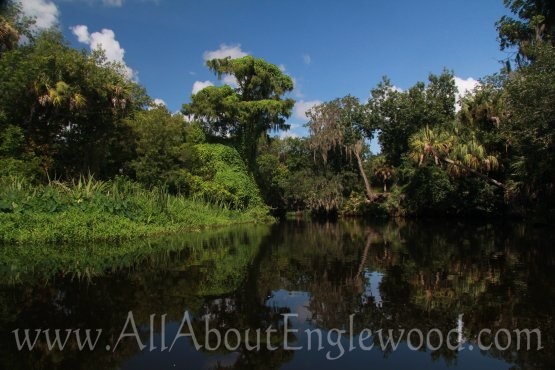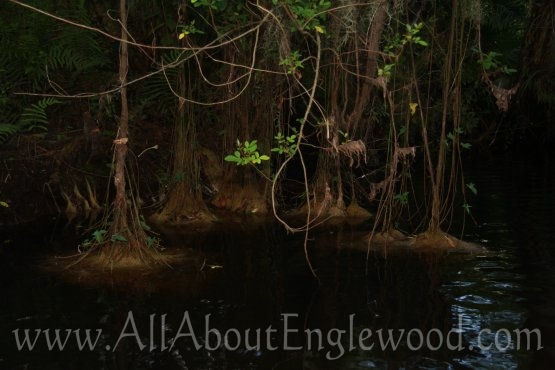 Interesting vine near the shady bank growing "down" into the water
and creating giant roots that float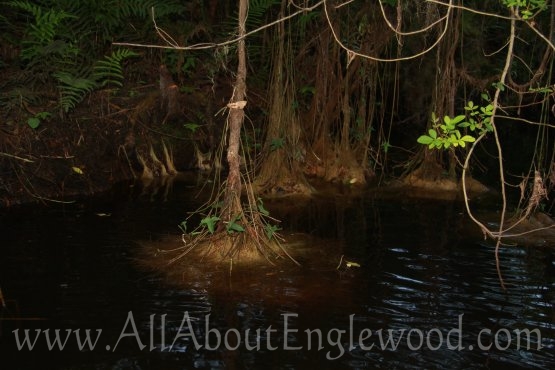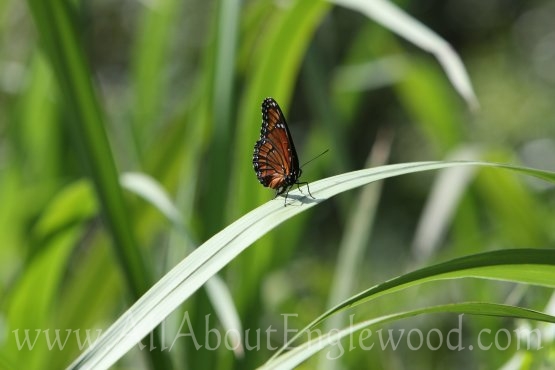 A Queen butterfly looking for a mate
Not many beaches available during the rainy season...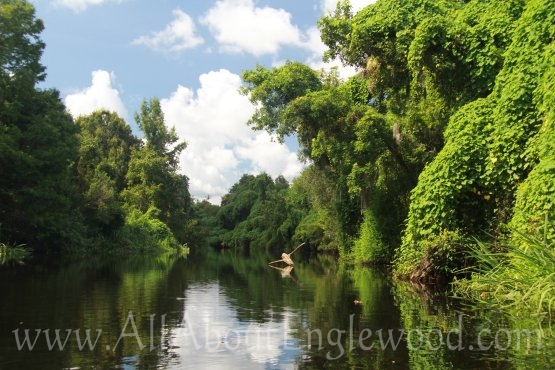 The intense green makes you relax
Every corner offers another beautiful scenic view
And you just never know what will be around the next corner :)
Huge hoofprints in the sand on this tiny beach tell me to beware...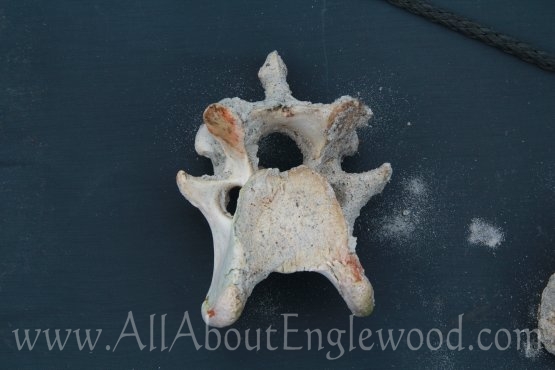 This bone fossil laying close by asks many questions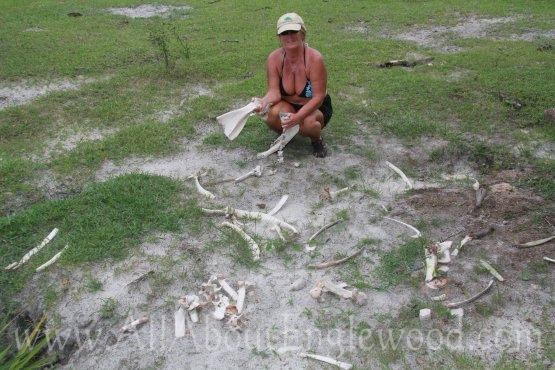 The rest of the bones are up on the bank in a clearing nearby
Heads or tails ??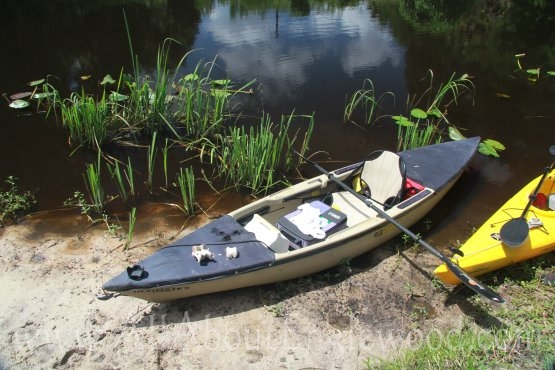 My kayak waiting for me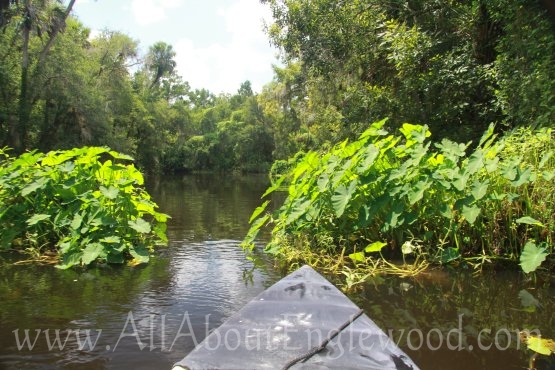 Interesting paths you have to follow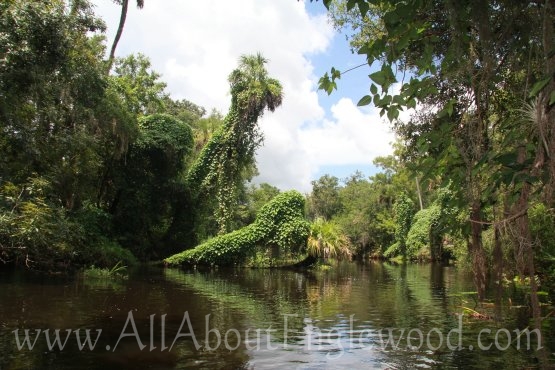 These beautiful, giant dinosaur topiaries are everywhere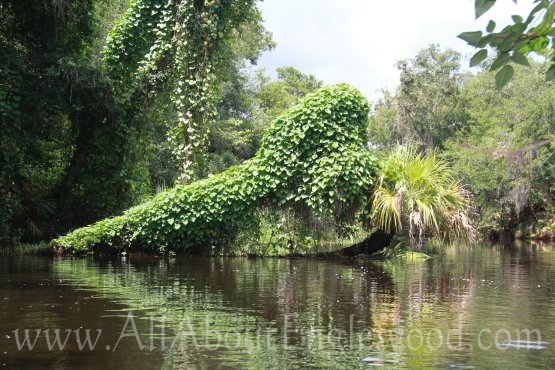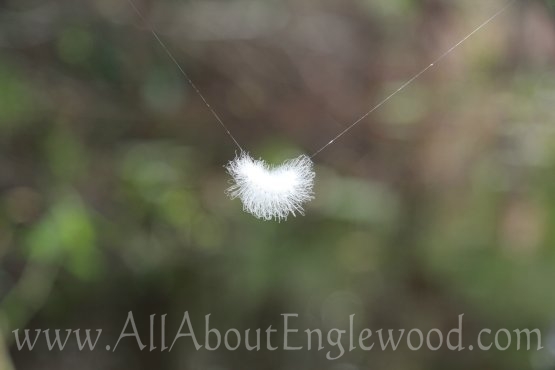 An interesting sight. Ae first, I thought it was a small bird feather caught in a spiders web... but on closer inspection it is a very small caterpillar resting in it's own hammock. Only about 1/2 inch long it took me awhile to photograph it blowing in the breeze while my kayak drifted on the current beneath it. After some research at home, I find out this tiny
creature is a Black-Waved Flannel Moth caterpillar. And highly poisonous.
Found a very interesting article about it here.

http://www.thefeaturedcreature.com/2012/09/from-dangerous-fluff-to-bunny-stuff.html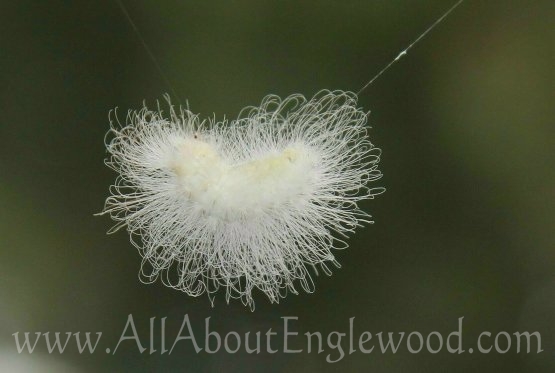 Two Queen Butterflies find a place to make love above the creek :)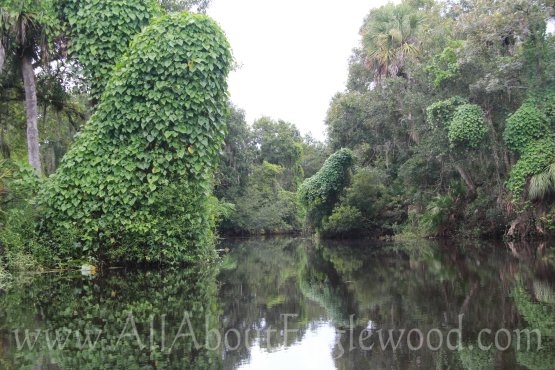 More giant topiaries around every corner
A young "Slider" perched on a log absorbing the sun. All he need do is retract
that hind foot and it falls into the water in a second
Green on green on green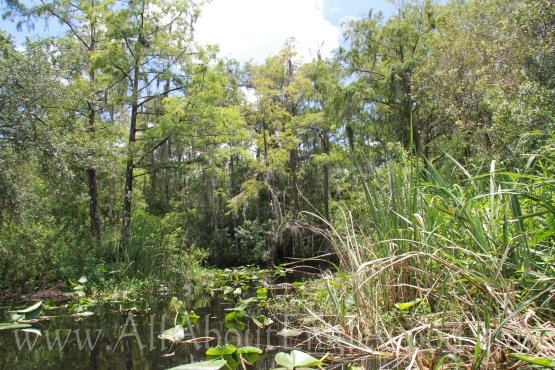 A side trip off the main branch of Shell Creek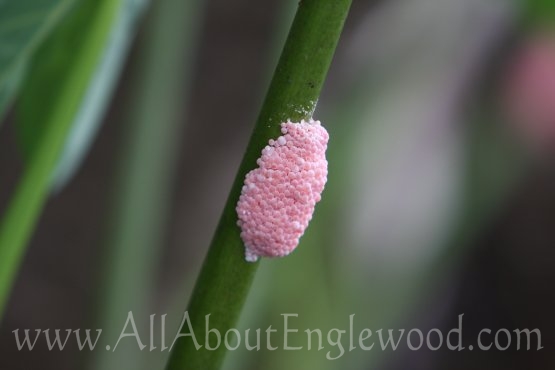 Contrasting pink markers in a total realm of brown and green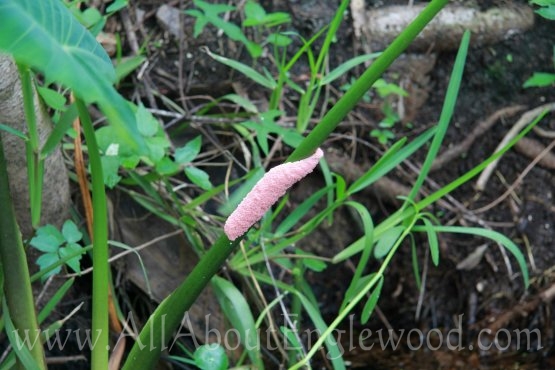 Snail eggs :)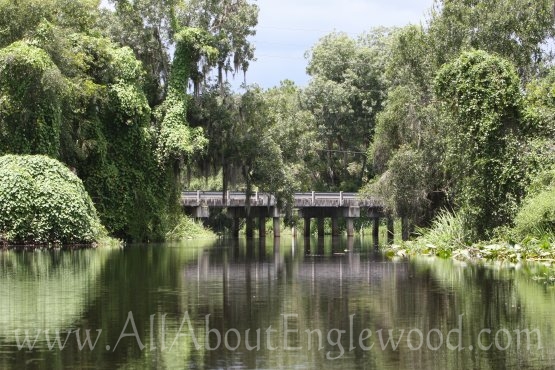 Almost home :) A welcome sight after several hours of paddling upstream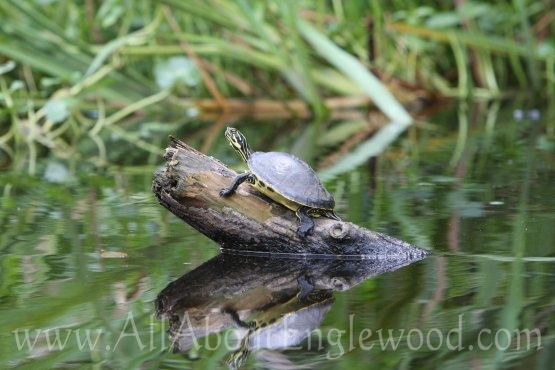 Another young "Slider' enjoying the afternoon sun
Another pair of Queen Butterflies looking for some privacy ???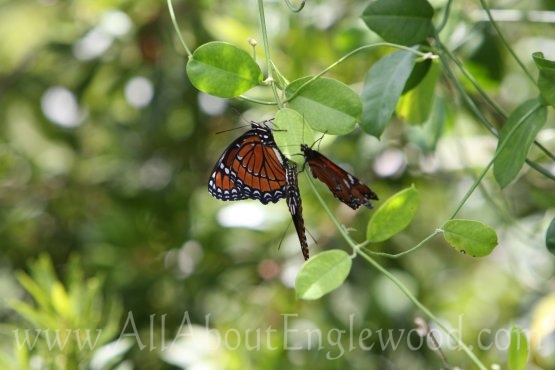 Its actually a threesome... two males competing for this docile female
The P.O.D.
The Picture Of The Day
---
" Royal Love "
Queen Butterflies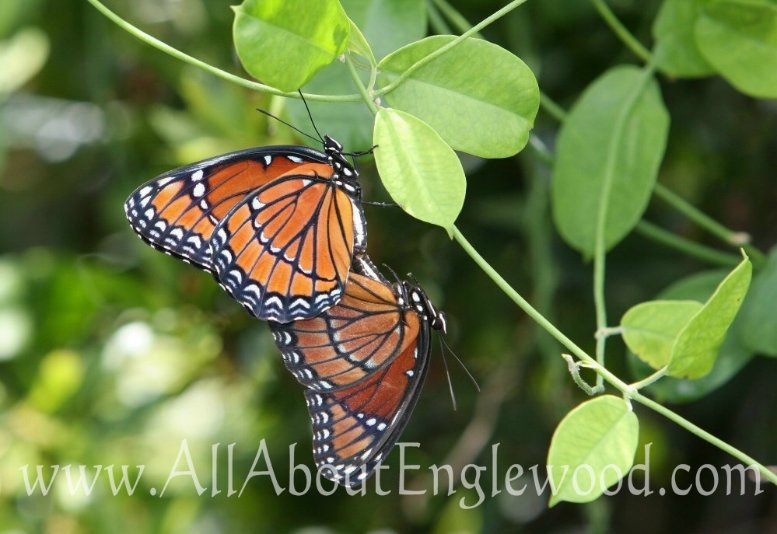 The winners enjoy a few moments exchanging the fluids that will keep their species alive
This Photo Web page compliments of

Robert's Photography
& Video Services
photographer in Unglued Florida
Englewood's #1 Nature Photographer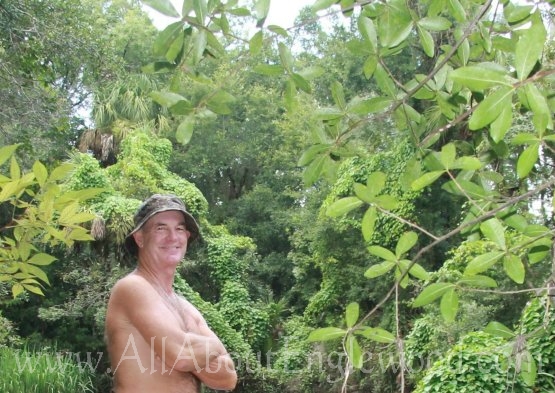 Thanks for visiting. Hope you enjoyed the trip :)

Would you like to go on a Private Kayak Adventure ?

I know of some very cool places we can explore.
Kayak Adventures Shell Creek
Thank you for visiting us here
in
Englewood Florida
All About Englewood Florida
All About Englewood Florida
For more information and 1000's of Event photo's visit


All About Englewood Florida
Shopping - Business - Nature - The P.O.D. - (NEW) 2012 Englewood Event Calendar
All About Englewood Florida
Parks - Beaches - Relaxation - Events - Photography - Photo Gallery - Testimonials
All About Englewood Florida
Visit these other spectacular
Englewood Florida Websites
pictures of
englewood florida
Robert's Photography - Video
& Internet Services

The P.O.D.
Carroll Swayze Invitational Art Show at Englewood Bank in Englewood Florida
---
This photo webpage compliments of
Robert's Photography - Video
& Internet Services
Experience the possibilities
@
www.AllAboutEnglewood.com